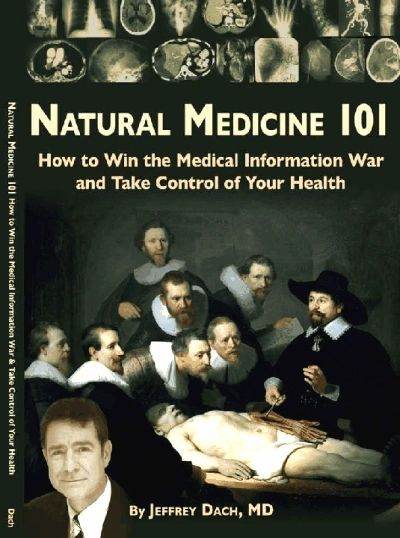 Natural Medicine 101
by Jeffrey Dach MD


Section One - Natural Medicine with Vitamins and Supplements
Chapter 1 My Vitamins are Killing Me
Chapter 2 Vitamin C and Stroke Prevention
Chapter 3 Vitamin D Deficiency, the Ignored Epidemic of the Developed World
Chapter 4 Breast Cancer Prevention and Iodine Supplementation
Chapter 5 Vitamin B12 Deficiency, the Epidemic of Misdiagnosis
Chapter 6 Glucosamine for Arthritis, The NIH GAIT Study
Section Two -
Disease Mongering by the Drug Companies
Chapter 7 Restless Leg Syndrome, Requip and Disease Mongering
Chapter 8 Paxil Prozac and SSRI Induced Suicide
Chapter 9 Lipitor and the Dracula of Modern Technology

Chapter 10 Cholesterol Lowering Drugs for Women, Just Say No
Chapter 11 Protect Your Family from Bad Drugs
Section Three Bio-Identical Hormones, Estrogen, Progesterone
Chapter 12 The Safety of BioIdentical Hormones
Chapter 13 FDA Declares War on BioIdentical Hormones
Chapter 14 BioIdentical Hormones, Cook Book or Tailor Made?
Section Four Human Growth Hormone, Testosterone, and Thyroid
Chapter 15 Dr. Andrew Weil, AARP, and Human Growth Hormone, HGH
Chapter 16 Does Testosterone Cause Prostate Cancer?
Chapter 17 Hypothyroidism Type Two and the Thyroflex
Section Five Medical Conditions, Hypertension, Diabetes
Chapter 18 Fifty Million Americans have High Blood Pressure
Chapter 19 Blood Pressure Pills for Hypertension, When to Treat?
Chapter 20 How To Improve Insulin Resistance in Type Two Diabetes
Chapter 21 The Epidemic of Type Two Diabetes, How to Get Rid of the Spare Tire
Section Six Book Reviews on Amazon
Chapter 22 Book Reviews on Amazon
Section Seven Infertility, PCOS and CAH
Chapter 23 Understanding PCOS the Hidden Epidemic
Chapter 24 A Commonly Missed Cause of Infertility, NonClassical CAH
Section Eight Heart Disease, Clogged Arteries
Chapter 25 CAT Coronary Calcium Scoring, Reversing Heart Disease
Chapter 26 Heart Disease Part Two - Atherosclerosis: How Does it Happen?
Chapter 27 Reversing Heart Disease without Drugs
Section Nine Radiology Days
Chapter 28 Remembering Interventional Radiology Days
Chapter 29 The Untold Message of Breast Cancer Awareness Month
Section Ten Medical Meetings Reports
Chapter 30 Pulsed ElectroMagnetic Devices for Healing Sports Injuries
Chapter 31 Orthomolecular Medicine Meeting in Toronto Honoring Abram Hoffer, MD
Section Eleven Case Reports and Miscellaneous
Chapter 32 Low Dose Naltrexone (LDN)
Chapter 33 Debbie Depressed Case Report
Chapter 34 Celiac Disease Gluten Sensitivity
Section Twelve Osteoporosis and Bisphosphonate Drugs
Chapter 35 Fosamax, Actonel, Osteoporosis and Toulouse Lautrec
Chapter 36 Bisphosphonates for Osteoporosis, A Closer Look at the Data